Product Description
The Deal
$17 for a two-pack of Metamucil lemon lime 673g powder (Don't pay $59.98)
$27 for a four-pack of Metamucil lemon lime 673g powder (Don't pay $119.96)
Highlights
Multi-health fibre supplement
Made with 100% natural psyllium
Natural way to stay regular and support a healthy gut
Might help maintain healthy cholesterol levels
May help relieve constipation
Designed to act as a daily cleanser
Assists with the toxin removal process via the cleansing effect
Can help maintain regularity during pregnancy
Made by leading digestive health and wellness brand, Metamucil
Take the Metamucil daily: start a day by mixing it with 250ml of water
High source of fibre
Weight: 673g per one pack
Short Dated Stock – Expiry date: July 2019
Ingredients: Psyllium Husk powder | Aspartame | Citric Acid | Sunset Yellow FCF CI 15985 | Maltodextrin | Citrus Flavour | Each 5.9g provides less than 5mg Sodium.
Allergen: Phenylalanine.
Cautions: keep out of reach of children. Do not use in cases of medication-induced constipation. In case of overdose, seek professional help or contact a Poison Information Centre immediately. Before using this product, consult a doctor if you have a sudden change in bowel habits persisting for two weeks or have abdominal pain, nausea, vomiting, rectal bleeding or are considering it as part of a cholesterol-lowering program and if pregnant or nursing. If you experience chest pain, vomiting or difficulty in swallowing or breathing after taking this product, seek immediate medical attention. Taking this product without adequate fluid may cause it to swell and block your throat or oesophagus and may cause choking. If mixture thickens, add more water and stir. Do not take if you have difficulty in swallowing. If constipation persists beyond seven days, consult a doctor. Bulk fibre may affect how well other medicines work. If you are taking a prescription medicine by mouth, take this product at least two hours before or two hours after the prescribed medicine to minimise any effect on drug absorption.
Two-Pack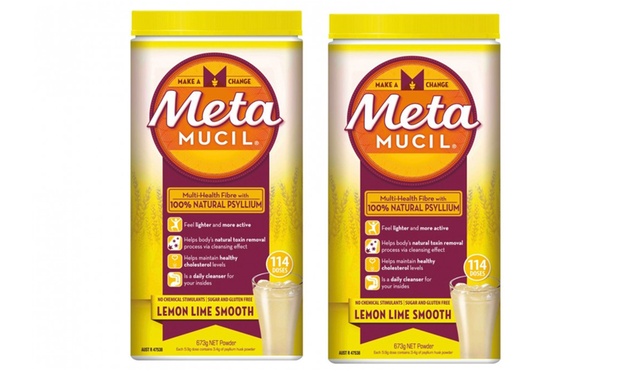 Four-Pack